I want to open my business on the web and internationally
How to manage customs, multilingual customer service, shipping?
IMAGINE A WORLD WHERE YOU CAN SELL YOUR PRODUCTS IN ALL COUNTRIES ON ALL MARKETPLACES.
Manage the shipping of your products as easily as a classic web client in your own country.
No taxes or currencies to integrate, no international logistics to manage, no translation, no customer service to manage.
No more problematic for returning products from foreign customers, cost of marketplaces or SEO.
It must be too complicated to implement?
How to choose my points of sale?
YOU ARE VISIBLE IMMEDIATELY BY MILLIONS OF POTENTIAL CLIENTS.
We integrate your products and you will start receiving orders from all over the world and you will simply have to send them locally unitarily or grouped once a day, for even more simplicity, in your own country or directly using our prepaid shipping labels from your warehouse.
NO MORE THAN 20 MINUTES TO SET UP AND YOUR PRODUCTS ARE ONLINE!
How much will it cost me? a fortune !

IN MOST CASES … NOTHING
It's without commitment for you
The investment is minimized in the constitution of the catalog (bar code, stock and price), since it is standardized by the World Trade Platform
Full product integration in Market-Places catalogs. You just have to validate the order and ship the product.
We manage the relationship with the customer in 12 languages

WE OFFER THE INTERNATIONAL MARKET ON A TRAY
If I understand correctly, I can sell my products in all countries thanks to the world trade platform by Zoomici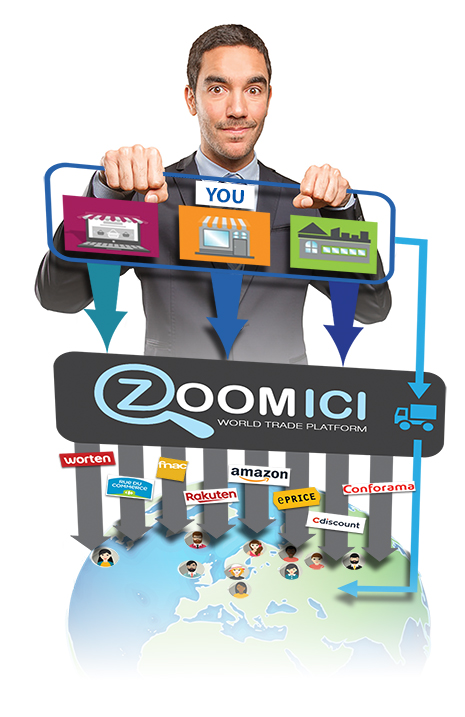 EXACTLY, YOU OPEN AN ACCOUNT, YOU PROVIDE US A CSV / XML FILE OR YOU CONNECT ON OUR API AND LET'S GO !
Marketplaces diffusion via the ZOOMICI brand,
• Process simplification, you only have one contact
• Sales via ZOOMICI brand as "top seller" on other platforms
• A single account to manage,
• Reverse pricing system,
• Global repricing algorithm to maximize sales while controlling your margins as you simply need to provide ZOOMICI with purchase prices.
• Scaling effect related to marketing policies different from Market-Places,
• Low prices on quality consumer products
Sell ​​your products worldwide within a week :
• Broadcast on all Marketplaces in Europe and worldwide via the ZOOMICI brand, protecting your current distribution network.
Sales are made via the brand ZOOMICI, already identified as a "top seller" on other platforms which reassures customers who only buy the big sellers well-noted on the marketplaces.
• Simplification of sales processes on marketplaces.
Simply deliver the orders received at our logistics center and bill ZOOMICI. That's all.
• A single customer account to manage (ZOOMICI S.A.)
• Pricing and repricing system managed by WORLD TRADE PLATFORM
This guarantees you to be at the 1st price faster than other sellers when your sales prices are competitive.
• Algorithm respecting your margins.
You supply us with purchase prices and we manage the selling price to the customers by taking into account all the costs (marketplace commission, logistics, international transport, competition price on the marketplace), so you know exactly how much you earn by selling since you determine the net price you want to receive for each product, ie our purchase price.
• Scale effect linked to marketing policies of Market-Places.
As an important partner of the different marketplaces, the products integrated in the WORLD TRADE PLATFORM are more visible than the other products because they are regularly promoted by marketplaces.
Sales optimization :
• Benefits from differences in strategies between Marketplaces.
Some of your products may not be cheaper on Amazon France, but in Italy or on some specialized marketplaces, you will be the cheapest and realize 100% of sales of these marketplaces. You will also capture the sales of single-marketplace buyers who have the store card like Fnac for example.
• Cancellation rate protected for our customers in order to meet the criteria requested by the marketplaces.
The marketplaces are very demanding on this point and we will ask you this same requirement, however, if you find yourself out of stock on one of our orders, we are able to maintain a sufficient level of quality by sourcing in real time in another provider of WORLD TRAD PLATFORM to satisfy our respective customer in the respective marketplace. To you to be vigilant on this point by putting your file of stock / price sufficiently often up to date because even if thanks to our volumes we will be able to grant you a fault of course at the start, which is not the case usually for a new seller marketplace, you will need to contribute quickly to our volume of quality we have on the marketplaces to avoid having to suspend our supplies.
Increase your visibility
• Immediate presence of your products on the entire Marketplaces network of WORLD TRAD PLATFORM.
• Optimal creation of the product sheets on the different marketplaces.
We praise for you many product databases allowing us to create your products in different languages ​​and respecting the different attributes and attribute values ​​requested by marketplaces to create the product sheets. Whether your products are unique or your own brand, providing us with these elements to create your products on different marketplaces through our product information management that we have developed for several years, the ZPIM interconnected to the different PIM of global marketplaces.
• Products become available at the 37 largest merchant sites in 29 countries.
• 200 million targeted Internet users.
Simplicity of our collaboration
Simplification of all parts of the sale on the marketplaces or internationally to the extreme.
Simply deliver the orders received at our logistics center and bill ZOOMICI. That's all !
No fees, we are your international distributor.
• No commitment, other than the orders we have already sent to you and those that may be in progress.
• Minimized investment in the constitution of the catalog (bar code, stock and prices)
Your product file is standardized by the platform, even if the more it is complete, with a maximum of attributes for each product, the better it will be, in case we do not have yet the file of some of your products.
Dedicated customer service
• High quality customer service managed by our platform.
We process customer requests from marketplaces from all countries in front, you only have to confirm the returns that we ask you according to the return conditions that you define.
We guarantee quality compliance with our processes towards marketplaces to remain on a level of excellence with respect to customers and a global score of top seller.
Increased customer satisfaction rate
• Permanent monitoring of customer evaluations + your supplier scoring.
You can track your score within the platform to work seamlessly with you and monitor your own quality of service.